[Review] The Unseen Eleanor by Johnny Worthern
July 16, 2014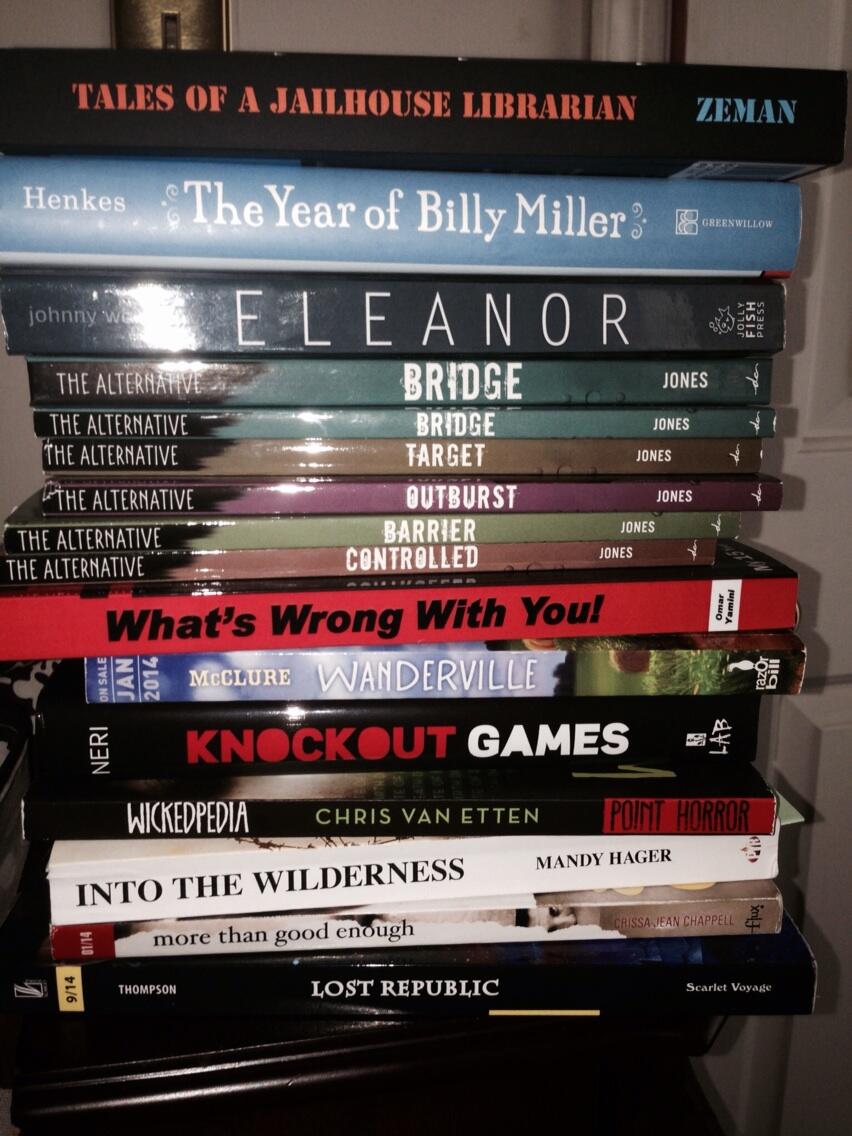 So here's a stack of books at home that will be going into the library in August.  Which ones are my favorites?  Why the supernatural psycho thriller of course!  The Unseen Eleanor (3rd from the top)  by Johhny Worthen just came out 2 weeks ago.  It's the first installment of a three-part series and based on the Navajo Skinwalker legend.   A skinwalker is someone that can take on the form of animals.  In this thriller, however, Eleanor can also take on the form of other humans.  She just needs skin contact to catch the inprint.  Eleanor's problem is that she is the soul survivor of the mass murder of her family, who were all skinwalkers.  Another name for a Skinwalker is witch. To this day, the Navajo view references to Skinwalkers as taboo. That's why Eleanor's family was killed.  Eleanor survived because her parents threw her into the woods where she lived as a wolf until she ran into Celeste and Tabitha.  For 
ten years she has survived with both their assistance.  Now Eleanor is in high school in the small town of Jamesford, Wyoming. She is shy and withdrawn and hopes to go mostly unnoticed, but with Tabitha close to death from cancer, Eleanor is petrified of a future alone. When the tall, dark, and mysterious David Venn comes into her life, Eleanor doesn't understand why she's so drawn to him and almost risks exposing her secret to stay by his side.  Worthen's handling of the volatile issues of racism, societal inequalities, gossip mongering, peer pressure, bullying, death, and abandonment held me spellbound and I'm sure it will have the same effect on others.  The Unseen Eleanor.  Worthern, Johnny.  July 1, 2014.  Jolly Fish Press.  $11.99 pbk.  280pp.  ISBN 9781939967343. 
About the Author:
 Johnny Worthen lives in Utah with his high school sweetheart.  He's been a jack of all trades, but once he started his writing…wow what an impact he's making.  I couldn't write about this book until my formal review for a professional journal was published., but yeah, I've been geeking on this book and the path that Johnny has walked to get to it.  You can read more about Johnny and the future installments in this new series, as well as his other books at
http://johnnyworthen.com/Biography.html
.